用800x600解像
可得最佳瀏覽效果

十塊木頭,十個故事.

赤的疑惑:血桐

Ten Woods, Ten stories

- Wonder of Red: Elephant's Ear (Macaranga tanarius)
血桐的名字來自它的枝條折斷後樹液氧化轉紅. 每當強風過後,血桐枝條折斷,流血現象便會出現,觀察並不困難. 此樹少種在公園內,並不為市區人士熟悉.但血桐是原生樹種,在野外常見.

Its Chinese name is血桐 (literally means "blood tung") best describes one of its features. When its branches break, the sap is oxidized and turns red like blood. Whenever strong wind breaks the branches, there will be bloodshed. The public is not familiar with this tree as only a few can be found in the parks. However, Elephant's Ear is a native species and is common in the suburbs.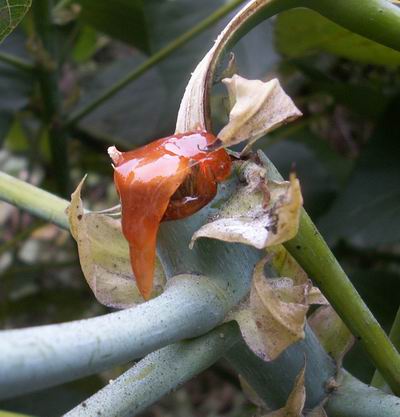 在樹木界中會流血的樹木還有龍血樹,雞血藤和牛血樹.血桐流血部位在中間心材位置.而牛血樹在邊材位置.

There are also other trees which bleed. They are: Dragon blood tree (Dracaena fragrans), Chicken blood vine (Millettiae caulis), and Oxblood tree (Pterocarpus indicus, commonly known as Zitan or Burmese rosewood). Elephant's Ear bleed in the centre of the heartwood; whereas Zitan bleed in the sapwood (near the periphery).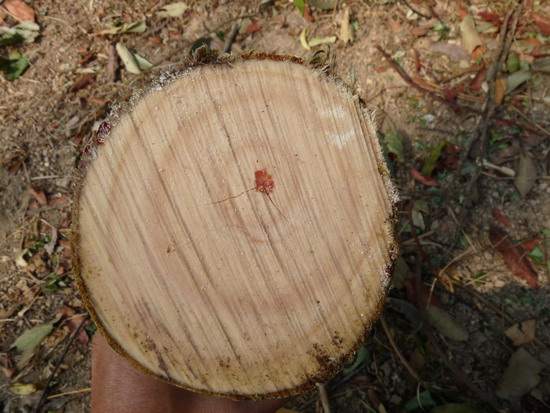 見紅的不單只出現在枝條上,樹木折斷也會,少見的是在葉片上流血.葉片的一般損壞並不導至流血,相信是昆蟲咬碎葉肉才有刺激的反應.
樹液的作用可以保護葉片免受啃食葉片的蟲害,不過昆蟲總有牠的方法.
Blood can also be seen on broken boughs or even on leaves. The general damage on leaves does not lead to bloodshed. It should be the stimulation caused by eating of mesophyll by insects.
Sap protects the tree against pests which chew its leaves, but pests always have their own way.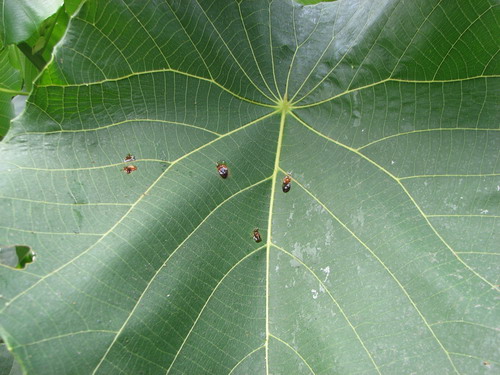 這條蟲全身通紅,不知道是否進食過多血桐而被血染了!

This worm is all red through. Maybe it has overdose of Elephant's ear?!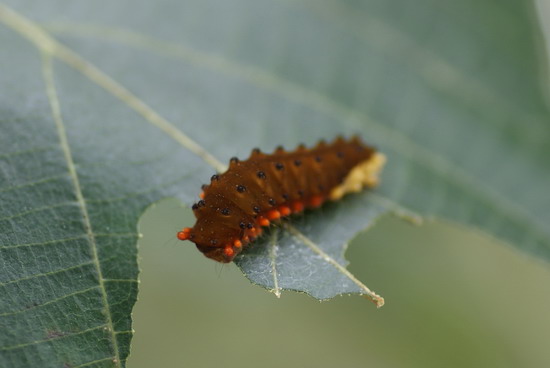 大戟科血桐屬除了血桐外,還有鼎湖血桐和刺果血桐兩種.下圖是鼎湖血桐所流的血.

In the family of Euphorbiaceae and the genus of Macaranga, there are two more species: Macaranga sampsonii and Macaranga auriculata. The photo below shows a bleeding Macaranga sampsonii.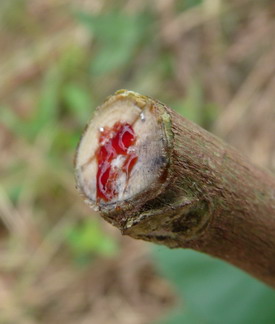 作者: Leon Lau, 譯者: Mary Chung

facebook群組, s94096507@gmail.com
下一篇 楊桃