情意結.

牙香遺恨

Complex of Love

- Eternal regrets of Incense Tree (Aquilaria sinensis)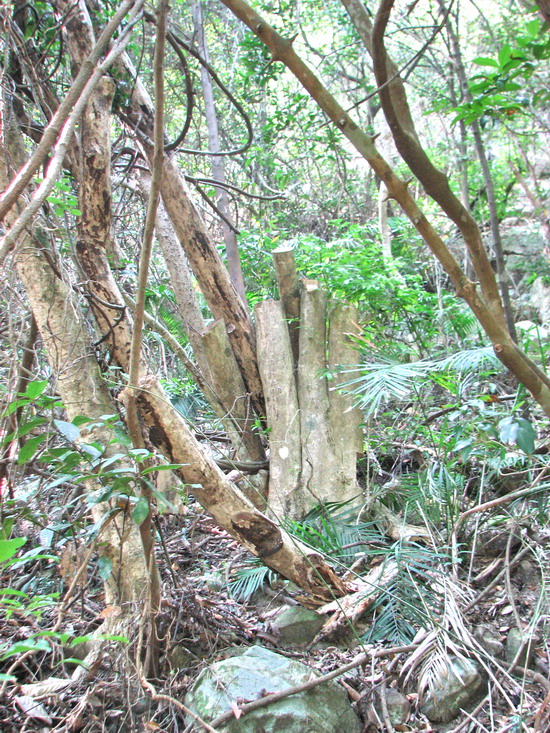 如果你平常行山有留意周邊的樹木,你會見到一個奇怪現象,有些樹在樹幹低位被斬去了半邊,露出了樹心,卻明顯沒有斬斷樹木.看真一些,這種樹都是牙香樹.有人認為土沉香(一種珍貴中藥)是由真菌感染樹心而形成如樹脂的物體.只要樹身不死,有一天,珍貴的樹脂便會從樹心源源不絕的流出來.你看到的半邊樹便是這些心存貪念的人幹的好事.

If you pay attention to the surrounding trees while you are hiking, you will notice a strange phenomenon. Some trees are half-chopped off at the bases of the trunk exposing the center. It is obvious that the trees were not totally cut off. When you take a good look, these trees are Incense trees. Some people think that 「Cheng Heung」 or 「agarwood」 (a kind of precious Chinese medicine for clinical use) is a resin which can be extracted by fungal infection of the tree center. As long as the tree is not dead, the precious resin will flow endlessly out from the tree center. The half which you see reveals the greed of these people.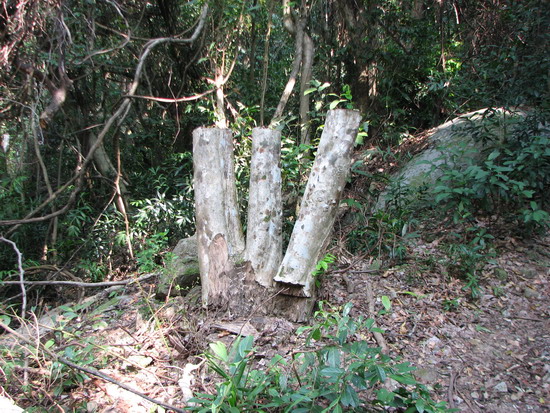 深水灣有大量的牙香樹被斬去.谷主估計需時一周.沒有人看見嗎?再想深一層,我們政府害怕標誌牙香樹的位置而引來罪犯,所以沒有豎立警告牌.谷主的想法是,愛護大自然環境是每一個人的責任,讓市民也盡一分力才可以阻止罪案的發生.

In Deep Water Bay, a large number of Incense trees are being chopped off. To do so, it takes at least a week and I wonder why no one ever seen it. When you come to think again, our government is afraid to mark the locations of Incense trees to attract criminals, so no warning signs are put up. However, in my opinion, to take care of the nature is everybody's responsibility and should let the public do their parts to prevent crime.
作者: Leon Lau, 譯者: Mary Chung

facebook群組, s94096507@gmail.com
下一篇 離愁:梧桐