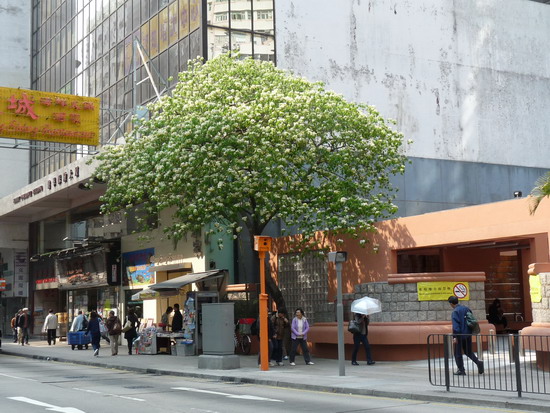 以上魚木由3月6日長出第一塊葉, 經歷了21天, 到了3月26日,葉和花長滿整個樹冠. "一夜白頭"的現象在最後的數天出現. 由於3月多雨, 陰天下我們不會留意樹冠上的變化, 當太陽出來後, "白頭"現象變得震撼.
谷主原先以為下雨是魚木長花的催化訊號, 卻遇上一個不落雨的3月, 推翻了原本的猜想. 樹木內藏養分作為春天開花長葉的動力, 在外表中看不出樹芯中開花前開花後的變化.
From the first day in leaf on March 6th to full bloom on March 26th, the whole process took 21 days. The phenomenon of 「Age in one night」 could be seen in the last few days. As March is always rainy and cloudy, the changes of the canopy may not be too noticeable. However, as the sun comes out, the 「ageing」 phenomenon is stunning.
I used to think that rain is a catalytic signal for the blooming of Spider tree. Here it comes a dry March with NO rain and my assumption is nullified. There is actually hidden nutrient reserve inside the trees as the momentum for the leafing and blooming in Spring, which is not at all revealing before or after blooming.
*translated by Mary Chung