伯公樹之

大水坑,百子千孫樹-樟樹

Granduncle Trees

「Hundred-son-thousand-grandson」 (which means abundant posterity) tree at Tai Shui Hang – Camphor tree (Cinnamomum camphora)
谷主很喜歡帶人看樹,分享欣賞大自然的樂趣.這一棵有點兒例外.

今次介紹的是在大水坑的一棵名為"百子千孫樹"的樟樹,在"香港古樹名木"一書中評鑒為二百年樹齡,它守候在古村(現時是新的建築物)大水坑村旁,地點在巴士總站後的空地側,當你見到土地公,再向小山丘望去看到多個枝條向上生的大樹,便是它了.

I enjoy seeing trees with people to share the pleasure of appreciating the beauty of nature. This tree is somewhat exceptional.

It is a Camphor tree, well know as 「Hundred-son-thousand-grandson」 tree at Tai Shui Hang. In the book 「Register of Old and Valuable Trees」, it is rated as 200 years old. It is standing in 「Gu Tsuen」 (literally means old village, but now is a new building) nearby Tai Shui Hang Village. More precisely, it is adjacent to the open space behind the bus terminus. When you see the 「village deity」, then look to a hillock. There it is a huge tree with many up- growing branches.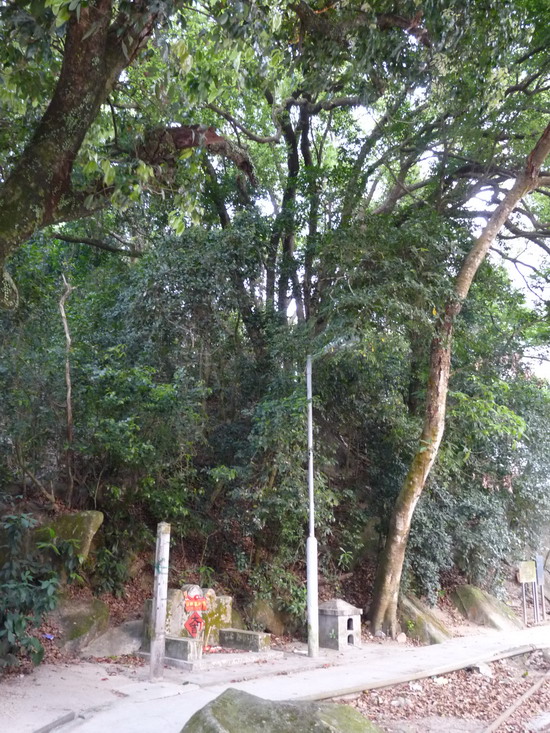 小山丘上的樟樹樹根在四周漫延,正好將村民的祈福傳話給土地公公.這是一棵很好的伯公樹.

Its roots sprawl in all directions on the hillock. It serves very well the purpose of transmitting the prays to the 「village deity」. It is a classic 「granduncle」 tree.
此樹在樹幹低點分成多個(現存13枝)樹幹向上生長,有如水仙頭的花枝.看它的長向,應該是早年樹身折斷,斷位長出水橫枝,屬於極差的結構.幸好生命力強橫的樟樹讓每一枝水橫枝都成長出來,經歷了百多年的成長,將整個樹冠撐出來.

Low in the tree, it is divided into multiple trunks (now 13) growing upwards, similar to the profile of narcissus. By the look of its growth, the tree had to be wrecked long time ago and water sprouts grew from the wounds. The structure was actually very poor. Fortunately, its domineering vitality allowed all the water sprouts to grow healthily. After more than a century, the entire canopy has propped up well.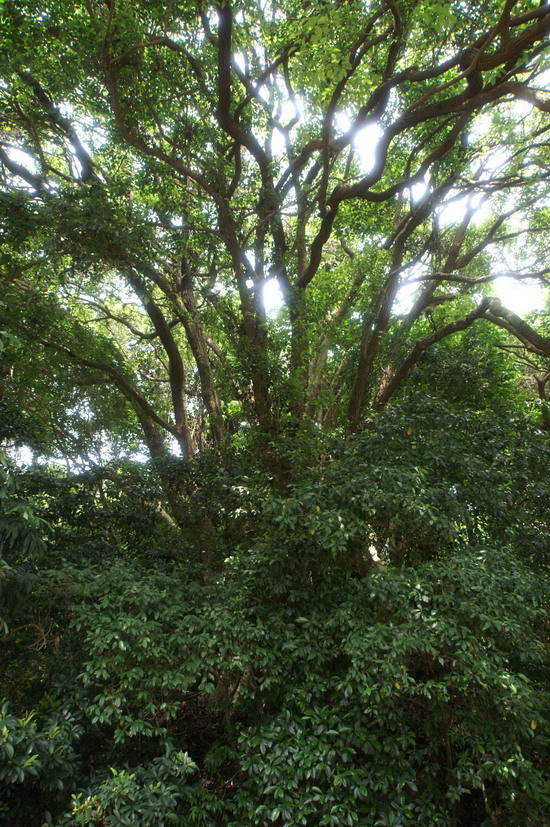 一棵樹有13枝的樹幹是少見的現象,在眾多樹木中算是出類拔萃的一棵.不過在香港樹木選舉中不見經傳,看來它承傳了低調的作風.

It is extraordinary that a tree has more than 13 trunks. It is quite one of a kind amongst all trees. However, maybe because it is inherently 「low-key」, it is not known in any of the tree campaigns in Hong Kong.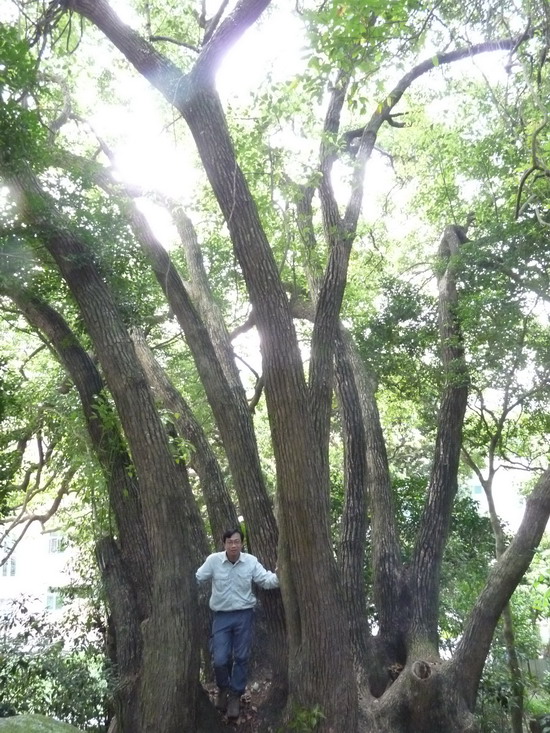 2008年谷主找到它時大樹身旁的垃圾與清潔劑盒隨處可見.2010年3月谷主再往探訪此樹時,已見有悉心的打理.看來政府對古樹的巡查著緊了,在保育上有所改善.

原先打算組團去看此樹,最終打消了念頭. 此樹的魅力足以吸引喜歡樹木的人士花點時間到此一遊.如果真的沒有興趣,只是你和它的緣份尚未到來.谷主也沒有必要多此一舉.

When I saw the tree back in 2008, trash and cleaning agent packages were everywhere. In March 2010, I visited again and found that it』s well taken care of. It looks like our government do have a closer look at these old and valuable trees and have improved in their conservation.

I planned to organize tours to look at this tree, eventually I gave up the idea. Its charisma should be sufficient to attract people to visit it in whatever ways it takes. If you are not moved by it, maybe that means you are destined not to meet it yet. Then, why shall I bother?

*translated by Mary Chung
作者: Leon Lau, 譯者: Mary Chung

facebook群組, s94096507@gmail.com
下一篇 滇糙葉樹